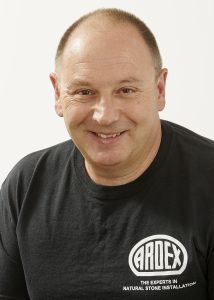 Vince Ruffini began his career at the age of 17 when he joined his father's business, and together they offered full bathroom renovation and fit out services. He gravitated toward the tiling aspect of his work from the outset, and after 5 years he decided to become a teacher in the subject. He joined the Skills Centre in Enfield, and first set about gaining his own City & Guilds qualification in Wall & Floor Tiling before moving on to teach the Level 2 course himself. He taught up to 16 students over a 48-week period, covering all aspects of tiling from rendering and screeding through to the installation of natural stone and mosaics; he also offered private tuition for those looking to upskill in specific areas.
After six years the centre closed, and Vince went self-employed as a tile fixer. Sub-contracting for Bennett Homes, Urban Homes and Colonial Kitchens, he worked on commercial and domestic projects throughout the UK, including high-end properties such as Limehouse in London and Hopetoun House in Edinburgh.
Vince returned to his training routes several years later when he joined Hackney College. He once again taught City & Guilds Wall & Floor Tiling, but this time he covered both the Level 1 and Level 2 courses and was responsible for up to 50 students a year! Those that enrolled would have had little to no experience, but they'd leave with a diploma, a CSCS Card and all the skills they'd need to start or join a tiling business.
His time at Hackney College was very fulfilling, particularly for his involvement in their community outreach programmes where he ran a weekly mosaics class for children with mental health issues and physical disabilities. It was also rewarding to see many of his students' works being recognised, with one mural hanging on the walls of London City Hall! In another example, an inter-college competition saw participants pitted against each other to create the best Olympic-themed mosaic artwork; judged by Bob Howard, a founding member of The Tile Association (TTA), Vince's team were crowned winners for their depiction of the fencing sport, as well as the famous Olympic rings.
This however wouldn't be the first time Vince crossed paths with the TTA, as he'd previously served as a Committee Member for two years. In yet another effort to improve the standards of training in his industry, he was instrumental in creating an Experienced Worker Route (EWR) course to allow experienced fixers to gain qualifications through a fast-track program. Following its development through the CITB, he then became the first person to trial the practical assessment of the qualification.
In 2016, Vince joined ARDEX as a Technical Service Representative. With his extensive experience in tiling, he quickly became a key contact for many contractors, specifiers and architects and assisted on technical queries, as well as helping with specification writing and site visits. He also had a significant involvement in product testing and the development of new products, including the launch of ARDEX X 60 PU FLEX Polyurethane Reaction Resin Tile Adhesive. Vince headed up product trials with pool and spa builders, and the feedback he gathered resulted in formulation tweaks to ultimately ensure the final product best suited the needs of fixers.
In 2018, Vince became one of ARDEX's latest Contract Managers. His role of assisting customers through technical support has not changed, but he now covers the country and has a larger focus on training. From events at the ARDEXacademy to product demonstrations at local trade counters, he has trained countless numbers on not only how to get the best from ARDEX products, but also how to tackle the toughest tiling challenges. Not limited to contractors, he is also implementing a national distributor training program so sales staff are upskilled too, ultimately ensuring they can offer a better service to their customers in the long-term.
Over the course of his career, Vince has used his technical knowledge to support thousands in the tiling industry. From running training courses that prepare novice fixers for the challenges of their trade, through to technical support for experienced professionals, he has demonstrated a proficiency for sharing best practice throughout the industry.