Technical Support
ARDEX don't just manufacture High Performance Building products, we recognise the importance of providing gold standard technical advice and support. We understand your needs differ from project to project, and can often require on-site support, which is why we offer a more mobile, local technical support network.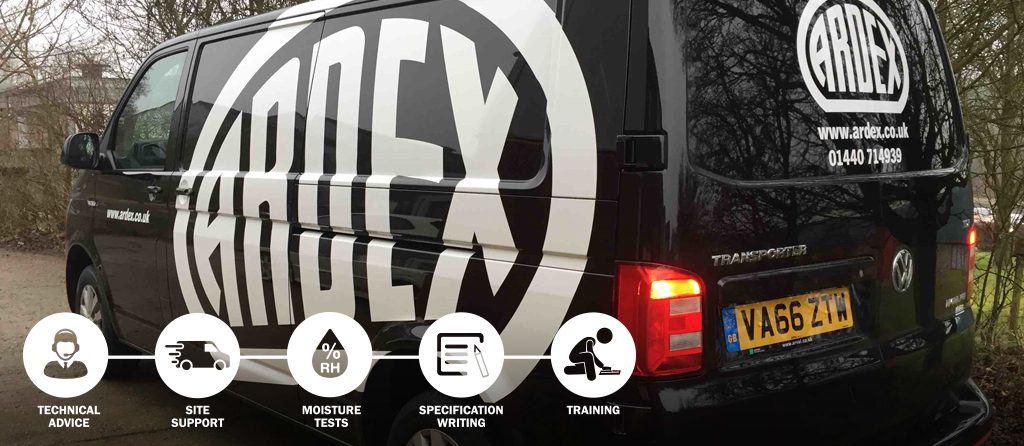 Technical Support
Our experienced team are available nationwide to offer advice, support and training, not just over the phone, but in person and on-site.
TECHNICAL ADVICE
We're on hand to offer advice and product recommendations, in line with British Standards codes of practice, via telephone, email, video call and our social media channels.
SITE SUPPORT
Our highly experienced Technical Service team are available to attend your site, offering site assessments, advice and guidance on the best use of our products and systems for your project.
MOISTURE TESTS
Many problems which occur on site are the result of moisture in the subfloor, so it's essential that the final floorcovering is protected from the passage of moisture from below. Our team can perform on-site Hygrometer tests, explain the results and recommend the best moisture control system for your installation.
We're also on hand to perform additional site tests such as the BRE Screed Test, which is designed to measure the soundness of a sand/cement floor screed.
SPECIFICATION WRITING
We work closely with architects, specifiers, contractors and floorcovering manufacturers to ensure the most suitable specification for your project. When specifying ARDEX you can rely on our expert team for on-going support at every stage of your project, including a rapid response to specification writing.
TRAINING
ARDEX offer a range of courses at our purpose built Academies in Suffolk and Stoke-on-Trent. Alternatively we can tailor training to meet your specific needs and deliver it at a location of your choice.
ARDEX Flooring Courses:
Subfloor Preparation & Installation of LVT
ARDEX Systems for Common Subfloors
How to Identify & Prepare Anhydrite Screeds
The Complete Guide to Controlling Moisture
ARDEX Tiling Courses:
Identification & Preparation of Backgrounds
Product Overview with Installation Benefits & Techniques
How to Identify & Prepare Anhydrite Screeds
Preparation of Backgrounds & Installation of Tiles to Heated Floors
The Complete Guide to Floor Preparation & Moisture Control
To discuss any of the above with a member of our team please call 01440 714939, email info@ardex.co.uk, or to learn more about our training courses visit ARDEXacademy