Resurfacing a garage floor need not be a daunting task. In this step by step guide, we show you how to apply ARDEX K 301 External Self-Levelling Concrete Resurfacing Compound to bring life back to old and damaged concrete floors. It's also ideal for resurfacing damaged concrete driveways, paths, courtyards and patios.
1. Prepare the old garage floor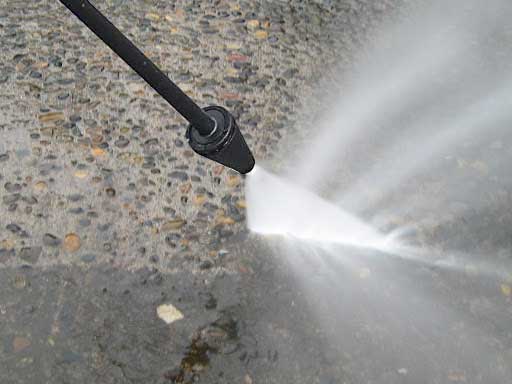 Use a degreaser to remove oil, grease or similar contaminants and rinse well. A jet wash is perfect for removing dirt and any loose debris. The prepared surface must have the appearance of clean sound concrete with some exposed aggregate in the surface. There must be no traces of any dirt, previous treatments or surface contamination.
To dam run-off areas use a profile or some foam tape. We normally use a large foam draught excluder, it does the job, and is fairly inexpensive.
2. Repair any damaged concrete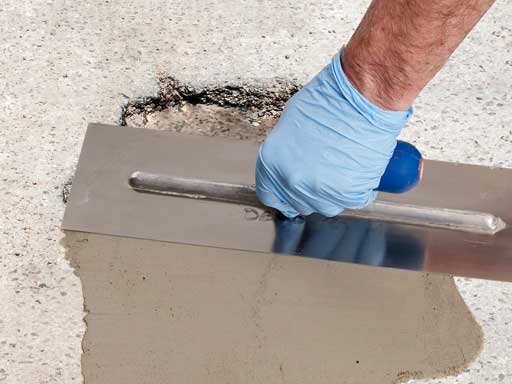 Repair and infill any holes or static cracks with a suitable concrete repair mortar such as ARDEX A 46.
3. Prime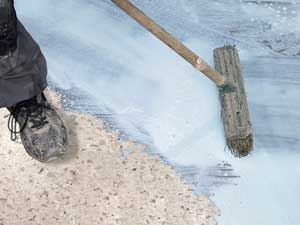 Prime the clean and dry area with ARDEX P 51 diluted to 1:7. (1 part primer to 7 parts water) and work into the concrete using a broom. Aim to fully saturate the floor area, as dry, porous concrete can absorb the water from freshly laid resurfacing compound and affect its performance. If any ponding or puddles of primer form, just remove with a broom so excess water is not incorporated into the K301 during application. We apply ARDEX K 301 whilst the priming layer is still damp.
For areas subject to heavy loading or regular rubber wheeled traffic, prime with ARDEX R 3 E (see datasheet for details).
4. Mix the ARDEX K 301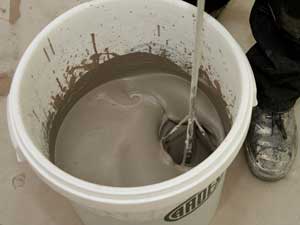 In a clean mixing container add the powder to the required amount of clean water whilst stirring thoroughly until a lump-free mortar is produced. The mix proportions by volume are approximately 5 parts ARDEX K301 powder to 1 part clean water. (A 25kg bag requires 5¼ litres of water).
If working on a gradient, the water in the mix can be reduced to stop any run-off on a slope.
The use of an ARDEX mixing paddle with a 10mm chuck slow speed (600 -1000 r.p.m.) electric drill makes light work of mixing. ARDEX K301 mortar should be applied within 30 minutes at 20°C. This time is extended at lower temperatures and reduced at higher temperatures.
One bag of ARDEX K 301 will cover 3m2 at 5mm thick. To work out how many bags you need, use the product calculator on the ARDEX K 301 page.
5. Resurface The Garage Floor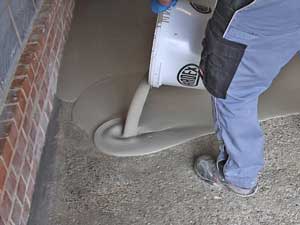 Pour the mixed ARDEX K 301 onto the garage floor whilst the primer is still damp. The mixed mortar will flow out and self-smooth during the first 10 minutes of its 30 minute working time. Use a steel trowel or float to spread the mortar to a smooth finish.
To create a more non-slip surface, allow the compound to partially set, (approximately 20-40 minutes under normal conditions), then finish with a stiff broom.
Once set, the freshly applied ARDEX K301 must be protected from adverse climatic conditions e.g. rapid drying air flow, direct strong sunlight, frost, etc., or appropriate curing measures taken until hardened.
ARDEX K 301 can be applied from 2-20mm and is walkable from 2-3 hours. Allow 48 hours for light vehicular traffic.
Printable flyer: ARDEX K 301 How To for External Concrete Resurfacing